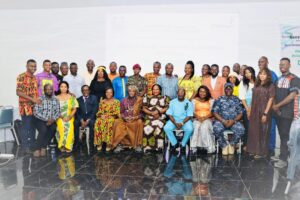 On July 27 and 28, 2023, a critical meeting in Freetown validated the Sierra Leone Point of Entry (POE) Border Health Policy, uniting the human, animal, and environmental health sectors. The framework aimed to enhance preparedness and response to cross-border health crises. Recent emergencies highlighted its urgent need, prompting a multidisciplinary approach.
Stakeholders thoroughly analyzed the policy over two days, focusing on prediction, prevention, detection, preparedness, and response to public health threats. Validation tests and debates improved the final version, identifying potential gaps that are being remedied by the Dr. Kilei Kilinda Imanuel-led consultant.
Implementation will lead to cross-border surveillance and rapid response teams, promoting cooperation between nations in sharing resources and information. The policy's benefits include containing outbreaks near borders, fostering collaborative research on notifiable and/or infectious diseases, and strengthening global pandemic defenses.
The validation marked a crucial milestone for global health preparedness, enhancing resilience in confronting emergencies for a safer future.
WE ARE DEFINED NOT BY OUR BORDERS, BUT BY OUR BONDS.
IT IS NO LONGER JUST TO SAFEGUARD PUBLIC HEALTH; POE PROTECTION IS ESSENTIAL, AND THIS IS WHERE THIS POLICY WILL HELP TO ECHEVE THE DESIRED GOALS.